A calling from young people in Ghana: These are the areas we need to invest in
Store dele af verden er lukket ned mens corona-pandemien raser, men nedlukningen åbner også op for nye muligheder. Fem unge ghanesere kommer her med deres bud på, hvordan vi opnår en bæredygtig udvikling, når Ghana igen åbner op.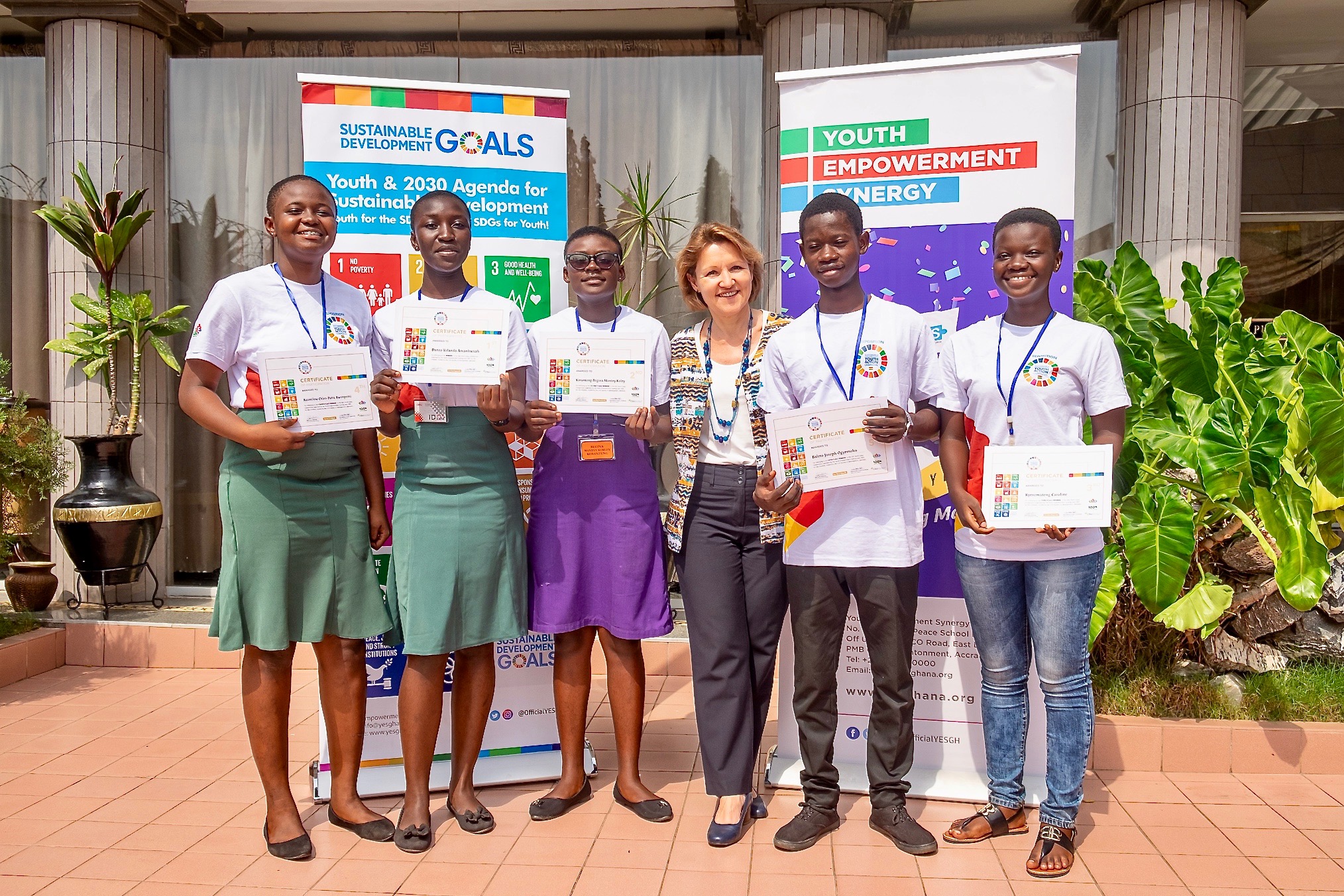 Joseph, Chleo-Patra, Caroline, Regina og Yolanda sammen med Anne-Claire Dufay fra FN til prisoverrækkelsen på en essaykonkurrence.
Det er stadig ikke til at sige, hvordan Afrika kommer til at se ud post-corona. I et opråb opfordrer afrikanske intellektuelle til at genopfinde Afrika i skyggen af corona. En sådan genopfindelse skaber rum for at udvikle nye og kreative løsninger på lokale og globale udfordringer.
Med FN's Verdensmål som ledestjerne har fem unge ghanesere sat sig for at komme med deres perspektiv på, hvordan flere unge kan få en kvalitetsuddannelse i Ghana og være med til at løfte udviklingen i landet.
Manglende uddannelse og arbejdsløshed blandt unge
I Ghana udgør unge 33 procent af befolkningen. På trods af dette inddrages de sjældent i de politiske dagsordener. De unge står ansigt til ansigt med et svagt uddannelsessystem og høj arbejdsløshed. Et flertal af unge flytter fra landområder til de større byer, hvor de bor og arbejder på gaden med håbet om at tjene nok penge til at kunne skabe sig en bedre fremtid.
Med corona og virussens konsekvenser for det afrikanske kontinent er tiden nu klar til at genopfinde kursen for Ghanas ungdom. Her bliver uddannelse af høj kvalitet altafgørende, hvis du spørger de unge selv.
Manglen på uddannelse gør det svært for de unge at kæmpe for deres rettigheder og komme ud af fattigdom. Med en uddannelse får de unge mulighed for at bestemme over eget liv.
Manglen på uddannelse gør det svært for de unge at kæmpe for deres rettigheder og komme ud af fattigdom. Med en uddannelse får de unge mulighed for at bestemme over eget liv. Et højere uddannelsesniveau hænger også direkte sammen med bedre sundhed.
FN's Verdensmål har på unik vis skabt et rum, hvor også unge kan engageres i udviklingsdagsordenen. Det er netop denne dagsorden som 5 unge gerne vil være med til at påvirke med deres seks bud på udviklingsområder.
Sikre kvalitetsuddannelse til alle
I kampen mod fattigdom og den næste sundhedskrise bliver et højt uddannelsesniveau afgørende for Afrikas fremtid. Fem unge ghanesere kommer med seks områder, de mener skal styrkes så vi kan sikre at flere børn og unge får en uddannelse.
1) Opbakning fra forældre og lokalsamfund
Først og fremmest skal forståelsen for og accepten af, at børn skal gå i skole, spredes mellem forældre og i lokalsamfundene. Mange forældre i Ghana mener stadig, at skolen er spild af tid og især pigebørn fratages muligheden for en uddannelse. Joseph, Chleo-Patra, Caroline, Regina og Yolanda er alle enige om, at en af de vigtigste ting, hvis mål 4 skal nås inden 2030, er at få forældre til at prioritere deres børns skolegang.
2) Infrastruktur og materialer
Skolernes infrastruktur og adgang til skolebøger, computere, tavler m.m. skal forbedres. Ikke nok med det så sætter de unge også fokus på, at skolerne skal være lettilgængelige for alle. Det vil sige, at de skal være børne-, køns-, og handicapvenlige.
3) Kvalificerede lærere
Ifølge de fem unge skal det sikres, at det er kvalificerede lærere der står for undervisningen. Eleverne i Ghana oplever sommetider, at deres lærere ikke er i stand til at sikre kvalitetsuddannelse. De er enten for dårligt uddannede selv eller mangler de rette materialer til at understøtte læringsprocesserne i praksis.
4) Mad til alle skolebørn
I 2005 startede et pilotprojekt i Ghana som skal nedsætte sult og fejlernæring gennem et skolemads-program (Ghana School Feeding Programme, GSFP). Madprogrammet skal styrkes, hvis det skal kunne leve op til dets mission om at mindske sult og fejlernæring og øge børnenes deltagelse i skolen.
5) En uddannelse for alle
Nogle børn er bogligt stærke, hvorimod andre børn er bedre til at løse praktiske opgave. De skal alle have adgang til en uddannelse som passer til dem og de håb og drømme de har for fremtiden. Et område som skal styrkes, er tilstedeværelsen af både almindelige og erhvervs- og tekniske skoler i både by- og landområder i hele Ghana.
6) Sammen om løsningerne
De fem nævnte løsninger har alle det tilfælles, at de kræver samarbejde mellem flere aktører. Og lige præcis samarbejde er de unges sjette fokusområde for udvikling. De unge skriver, at et løft på de ovennævnte områder kræver et bredt samarbejde mellem regering, private virksomheder og NGO'er i det ghanesiske samfund for at kunne lykkedes.
De fem unge ghanesere har alle deltaget i et projekt, hvor unge trænes til at blive ambassadører for Verdensmålene. Du kan læse mere om ambassadørerne og projektet på vores side Ambassadører for Verdensmålene.