"My time at 100% and what I learned about sexual and reproductive health."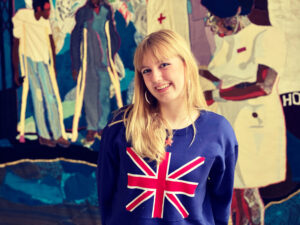 Hello, my name is Esther. I am 15 years old and have been on an internship at 100% for the Children. My internship week at 100% for the Children has truly been one of the most exciting and educational experiences in a long time.
I applied for my internship after participating in the Sustainable Development Goals (SDG) education program, which 100% was also a part of. Their presentations, stories, and approach to development work quickly caught my attention and seemed like a perfect fit for me. I think 100% works with the SDGs in a great way and incorporates them meaningfully and comprehensively.
During the week, I gained a much greater insight into what it's like to be a small NGO in Denmark. I attended an online meeting with some partners from Kenya, heard about their collaboration, and learned how they carry out projects. It's amazing how you can feel the activism even through a computer screen. At 100%, I learned a lot about how their collaboration with other NGOs, both locally and globally, works, as well as the administrative aspects. I gained a much better understanding of what it means to initiate projects, the level of detail required when applying for funding, and how to ensure that members can easily pay for their membership. It has been really cool to see how everything works from the inside and what development work looks like.
I think it's truly amazing how you can feel the activism even through a computer screen.
Sexual and reproductive health
I have worked extensively on Sexual and Reproductive Health and Rights (SRHR). For me, SRHR is about the right to have control over one's own body, to feel free and be whoever one wants to be. It's about being able to live a dignified life without discrimination, ensuring that everyone, regardless of their identity or occupation, has access to the same healthcare services. Sometimes, I think we unconsciously take these things for granted in Denmark. This is probably because most people in Denmark view these issues as fundamental human rights, something that should be given. For me, gaining a deeper understanding of how SRHR is perceived in countries like Kenya and Ghana has been a significant eye-opener.
There are two particular things that have touched me deeply in my work at 100%. The first one is a survey conducted among 39 teachers in Kenya, where they were asked about SRHR. It was shocking to learn that 38% of the teachers believed it was the girl's own fault if she was raped, and 90% had witnessed young girls dropping out of school due to pregnancy. The second thing was an anonymous helpline where Kenyan youth were allowed to ask questions about anything related to SRHR. "What is puberty?" "My father wants to sleep with me - is that normal?" "Why do human beings engage in sex?" - These were some of the questions that young people had. Both the survey and the helpline show how limited the knowledge about SRHR is in Kenya. It revealed the reality that young girls live in constant fear of being raped, how they resort to selling themselves to afford menstrual hygiene products, or how they or their friends drop out of school at the age of 13 due to pregnancy. These are issues that we in Denmark do not face to the same extent. My perspective on SRHR has truly changed, and I have come to understand the importance and life-altering aspects of sexual and reproductive health.
My internship week has truly ignited my passion for working even more with development projects in the future, and I have no doubt that 100% for the Children has made a huge difference for thousands of children and youth across Africa.
My perspective on SRHR has truly been transformed, and I have come to a profound understanding of the importance and life-altering aspects of sexual and reproductive health.