With a new EU-funded project, we are going to publish a photobook and materials for teaching. 



We are collaborating with the book publisher Disko Bay and Københavns Professionshøjskole to break down prejudices about street children and migration in a new project.
100% for The Children has applied for money towards a new project - and we got them! That is why we are publishing a photobook throughout the country, which also serves as material for teaching of social science students and lectures alike, at Copenhagen University College.
The photobook POSITION
POSITION is a contribution towards changing the stereotypical narrative of children in a marginalized situation. The children in the book live on the streets, at the market, at a bus station, at a landfill and in simple sheds in Accra, Ghana. They are poor, many of them have only the most basic knowledge of school or none, the majority have lost at least one parent or have been evicted from home. But all of the 15 children see themselves as capable people with resources, skills, ambitions and strong values.
The book was created in collaboration with the children. They have chosen where they would like to be photographed, and they have discussed their own conditions, challenges, and opportunities in preparation for the book, and how they relate to the Global Goals, focusing on girls 'and boys' consistently different situations and the fact that almost all of them are migrants. They travelled from villages or all the way from the neighboring country Togo to the capital of Ghana to find work, earn money and finance their schooling. The children's migration stories can be found on the last pages of the book.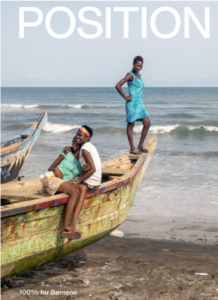 The photobook POSITION is available to everyone in digital form here. The book can also be borrowed at libraries in Denmark (ISBN 978-87-970520-3-7).
The photobook is produced with financial support from the European Union. The sender of the photobook is solely responsible for the content. In no way does it reflect the position of the European Union.
A different kind of material for teaching
POSITION - an exercise booklet on involvement, reframing and the Global Goals must not only convey the Global Goals, but also provide some specific tools for how you as a social worker can challenge negative images of homeless children and young people, and thus involve your target groups as active agents of change. The exercise booklet can be borrowed from the Copenhagen University College's libraries or downloaded directly from here: POSITION exercise booklet.
We also set up a Global Goals Network for all social worker and students in Copenhagen on Facebook. The group is calledSDG-netværk for socialrådgivere- og studerende'. Together with volunteer socialworker students, we will share news and knowledge about the booklet as well as events related to the World Goals. We also hope you enjoy joining us as a member.



August: The Photobook published in collaboration with Disko Bay and the journalist Mai Rasmussen


August-march Guest lectures on the education of social workers in Copenhagen


November: 100% for the children organizes a panel discussion about the project and the Global goals


November: 2 days of photo exhibition at Rosenholm slot in collaboration with CHPevent


December: 2 days of photo exhibition at Bernstorff slot in collaboration with CHPevent


March: Vernissage of photo exhibition at Copenhagen University College on international day