100% for the children works

where no one else does

 
The organization was founded in 2008 by the chaos pilot and moving spirit Signe Møller. The year before she came to Mombasa, where she met children and families at the Kibarani landfill.
The approximately 3,000 families living in the area lived on top of the waste, under poor sanitary conditions. No NGO would act at the time. But Signe would. The meeting with the families inspired her to make a difference and that is why she started the organization.
Today, we work in vulnerable and marginalized areas with local partners around the children and young people that no one else wants or can help. Children living and working in landfills. Children living on the streets. Children with disabilities. And children and young people living in marginalized societies.
Children and young people whose voices are rarely heard.
With their voices as an aiming point, we do everything we can to create opportunities and give them the skills they need. We do it with presence, thoroughness, knowledge, and power of action. We do this by collaborating with small local partners and organizations that know the local people and the context best.
100% FOR THE CHILDREN WORK IN GHANA AND KENYA
All our projects are implemented in close partnership with small local NGOs.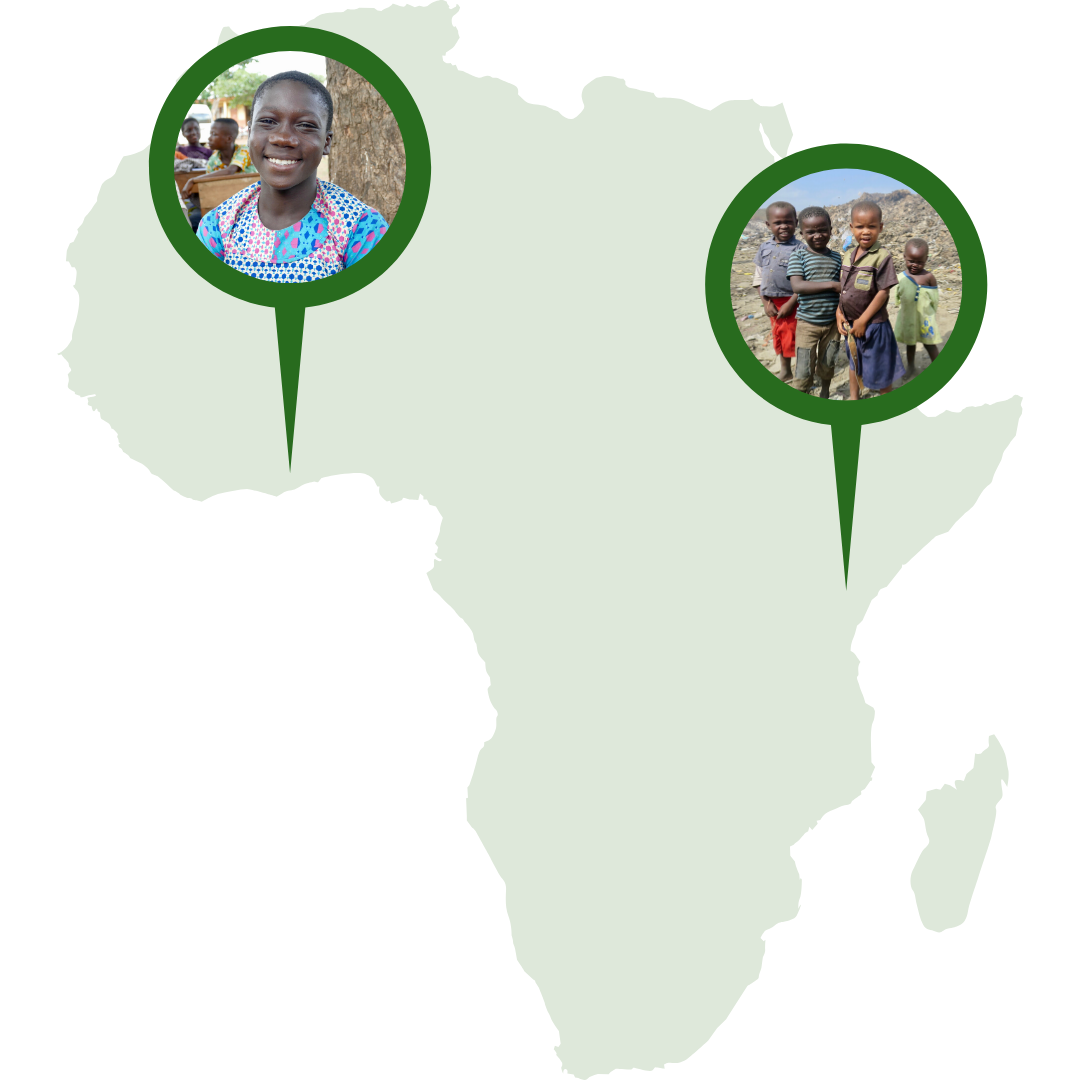 100% for the Children especially works with
Schooling
We started by supporting 2 schools in Kenya. We now have strengthened the teaching at more than 34 schools in Kenya and Ghana, ensured more than 2,000 children and young people access to education, and built up the capacity of more than 60 teachers. We also work with Danish schools with a focus on engaging young people in the Sustainable Development Goals.
Health and well-being
We have ensured more than 1100 children's access to a daily meal of food. We combine schooling with food to ensure that parents in particularly vulnerable areas let their children attend school. We also work to give children with special needs access to therapy to strengthen their well-being. We prevent sexually transmitted diseases and adolescent pregnancies, at 34 schools in Kenya.
Partnerships
We know that partnerships for action are the most important tool in our development work. That is why we have more than 20 partners in Ghana, Kenya, and Denmark. Together with our partners, we find the best ways to support children and young people to make our efforts sustainable. In addition, we also help vulnerable partners become stronger.
Information work
Advocacy is an integral part of all our projects. We educate our target groups and partners in influencing decision-makers and fellow citizens. Through radio and video, we have reached out to more than 2,000,000 people with our message about girls' rights to an education in Ghana and more than 70,000 people with our message about the rights of street children.
Our goals and methods told in 2 minutes