Private donations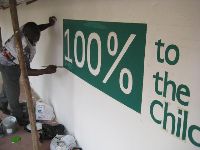 Our very name embodies our promise: if you give DKK 100 to us, the children will receive DKK 100.
We have set up a donation scheme so you can support directly to a school child, a high school girl, a child with special needs or a teacher. Please indicate this under 'comment'.
But 100% needs funding for both its running costs in Denmark and the projects in Africa. We hope that our donors and partners will recognise this and support both.
Support our projects/individual children
Free choice for everyone
We believe that an overall part of a business's corporate social responsibility could be to sponsor our administration costs. Then individuals can donate directly to the children. Nevertheless, everyone – business or individual alike – has the option of choosing to support one, the other, or both.
We believe that increasing the focus on what we spend our administration funds on will improve the understanding and sense of ownership of the projects, both here and in Africa.
In Africa, we can risk to encounter challenges like corruption. We want to focus on this vis-à-vis governments, embassies, partners and our members. The fact is, our development efforts run into these sorts of problems every day, which is one of many reasons why 100% seeks full transparency.
Struggling for a 'slim' administration
When you make a donation to 100%, you choose whether your money should be used directly on projects or whether they should be used to keep our administrative wheels turning. We seek to cover all administration costs via sponsorships and partnership agreements – all the way down to sponsorship of our bank charges and webdesign, phone etc.